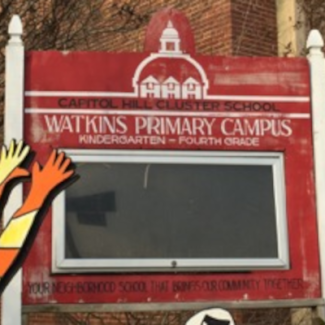 The Edwin Black Show is seeking more information on the Watkins Elementary School Holocaust incident. All messages, including those from police officers, parents, students, and school staff, will be treated with assured journalistic confidentiality. Contact watkins@theedwinblackshow.com to provide information in confidence on this incident to Edwin Black.
17 Dec 2021: The Incident
Third-grade students, including Jewish kids, at Watkins Elementary School in Washington DC, were allegedly instructed by a staff member to reenact scenes from the Holocaust, including gassing, digging ditches for bodies, and shootings. Antisemitic remarks were also reported. Is this a mere school mishap to be regretted … or criminal child abuse to be prosecuted? On the day of the incident, Principal MScott Berkowitz sent a message to Watkins parents and families informing them of the indecent in general terms.
The incident sparked global coverage:
https://wtop.com/dc/2021/12/dcps-investigating-alleged-holocaust-re-enactments-at-watkins-elementary/
https://www.usatoday.com/story/news/education/2021/12/20/watkins-elementary-school-reenact-holocaust/8968713002/
https://www.washingtonpost.com/education/2021/12/19/holocaust-reenactment-watkins-school-dc/ (possibly paywalled)
https://www.fox5dc.com/news/dcps-investigates-after-elementary-students-say-they-were-forced-to-reenact-holocaust
https://www.timesofisrael.com/dc-teacher-suspended-after-making-3rd-grade-kids-reenact-holocaust-scenes/
https://www.bbc.com/news/world-us-canada-59733807
 
21 Dec 2021
The ADL, JCRC, and the AJC issued a joint statement after meeting with DC public schools leaders.
HOW TO FILE A CRIMINAL COMPLAINT IN THIS MATTER:
Walk into the Metro Police Station District One and tell them you want to talk to detectives to file a police report for Child Abuse against the person who inflicted the damage, and a separate report against the DCPS for child endangerment and/or child neglect for hiring the person despite the information on her criminal record easily found by a simple search. Relevant statue: DC Code, Chapter 13.
5 Jan 2022
StandWithUs is partnering with Gerstman Schwartz LLP and NY State Assemblyman Simcha Eichenstein to set up a nationwide network of lawyers who will, pro bono, assist survivors of violent antisemitic acts with filing civil suits against the perpetrators.
---
More information:
On December 19, The Washington Post reported that a group of third-grade students at Watkins Elementary, part of the DC public school system (DCPS), had been instructed by a staff member to reenact scenes from the Holocaust. In the following days, multiple news outlets amplified the story. The staff member in question was promptly placed on administrative leave. The following information is publicly available: her NJ teaching license was suspended by the state board following a fraud conviction (she unsuccessfully appealed the suspension and her firing); in addition, in 2019, she was charged with multiple counts of animal cruelty after one of her dogs died after being left out in the cold.
A question that must be answered is how this person passed the DCPS hiring process.
---
SIMILAR INCIDENTS:
This is not the first or only instance of teachers and other instructors teaching history, perhaps with good intent, but deeply inappropriately. In March 2019, a teacher a a Bronxville NY private school held a mock slave auction for her students in which white fifth-graders pretended to bid on their black peers while she played auctioneer. Similar incidents happened in Maplewood NJ in 2017 and Norfolk VA in 2011. These are a few of the multiple, nation-spanning incidents of teachers teaching about slavery by means of mock auctions and other reenactments. Nor are inappropriate lessons limited to slavery; in October 2021, a Riverside CA teacher was recorded while mocking Native American culture.
Notes by Eve.